---
Conference Site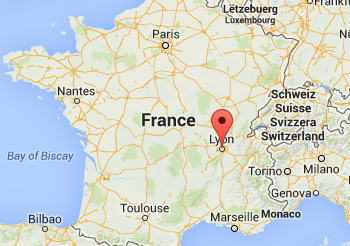 3DV 2015 will take place in the French city of Lyon at the Ecole Normale Supérieure (ENS Lyon).
46 Allée d'Italie, 69007 LYON – FRANCE
Latitude: 45.7298161 – Longitude: 4.827159299999948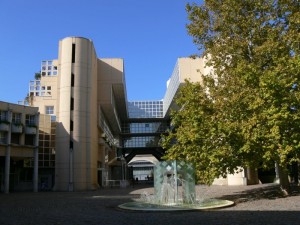 École Normale Supérieure de Lyon

The ENS is one the top French pluri-disciplinary higher education establishments. It  is located in the Gerland area of the 7th district of Lyon, near the Pont Pasteur bridge on the left bank of the Rhône. It is  in a pleasant campus, near the centre of Lyon, easily accessible by public transports (tram, bus, subway): a 15mn subway ride from Lyon historical centre. Many hotels are within easy walking distance or within a short bus or subway ride.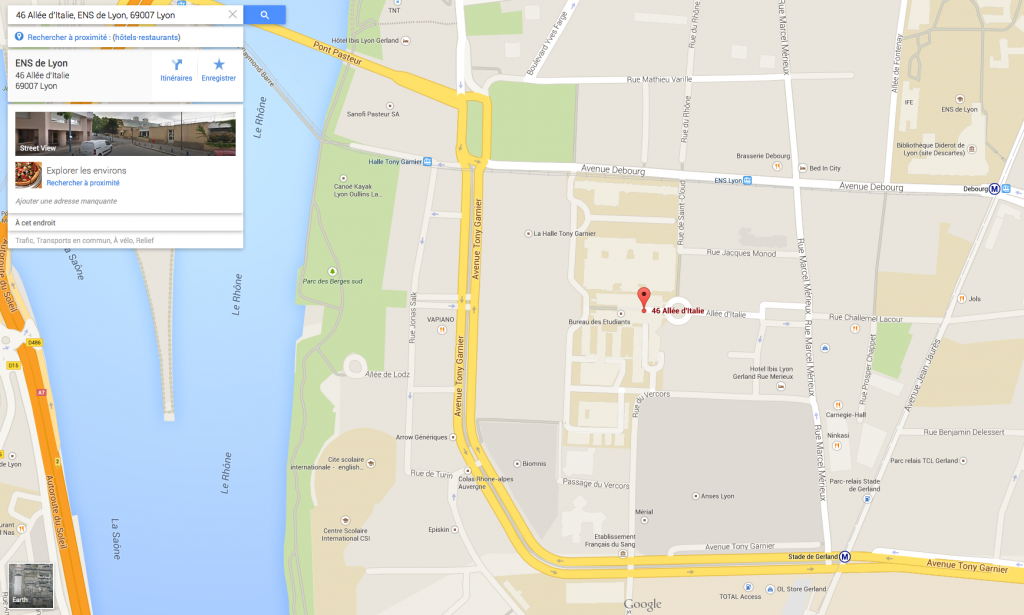 The main access to the conference are: subway line B (DEBOURG stop) or Tram line 1 (ENS Lyon stop).
Further information can be found on the ENS website by clicking HERE.
Local Public Transport: http://www.tcl.fr
. Between 12 pm and 5 am there is no public transport
Taxis: Taxis are available at the airport and at the railway station. Some useful phones: +33 4 72 10 86 86   –   +33 4 78 26 81 81   –   + 33 4 78 28 23 23
---
How to get to Lyon and to 3DV ?
From  Lyon-Saint-Exupéry airport: Take the Rhônexpress tram to the Part-Dieu railway station, then change to the metro, take the line B  direction Stade de Gerland and go to  station Debourg.
From  Part-Dieu railway station: Take the metro direction Gare d'Oullins and go to station  Debourg.
From Jean Macé metro and suburban train stations: Take the metro direction Gare d'Oullins and go to station Debourg.
From Perrache railway station: Take either a bus line 22 or  Tram T1, direction Debourg, and go to station ENS or Debourg.
Going around with bikes !
Lyon has a very convenient bike renting system, Vélo'v,  with many stations spread over the city. Near the conference centre you will  find  bicycle stations at:
Avenue Debourg – at the corner of Avenue Jean Jaurès (station #7005)
Opposite 219 Avenue Jean Jaurès – at thecorner of rue Bollier (station #7057)
Place des Pavillons – in front of the Municipal Library (station #7012)
Place de l'Ecole – at the corner of rue de St Cloud (station #7046)
Halle Tony Garnier – Avenue Tony Garnier, at the corner of the new road (100 metres beyond the corner of Avenue Debourg) (station #7013)
---
The city of Lyon
1

st business-friendly city in France
4000

restaurants – 15 Michelin starred restaurants
1 st France's city for culture (outside of Paris)
2

nd city of the arts in France
Lyon is a city with 2000 years of history that you can discover as you walk through its districts that make up the UNESCO World Heritage Site, ranging from Roman architecture mixed to bold contemporary creations and spread over 3 districts: Vieux Lyon, the City Centre (the Peninsula) and Croix Rousse.

— VIEUX LYON —

Vieux Lyon a preserved sector, is one of the largest Renaissance quarters in Europe, together with Venice. In particular, the successful 15th and 16th century fairs attracted numerous Italian bankers who made Vieux Lyon the colourful Renaissance district we know today.
The pedestrian area, enlivened by café and restaurant terraces, with bustling nightlife, offers a warm, lively ambiance.
The famous traboules (from the Latin transambulare) are passageways that allow people to cross directly from one street to another through inner courtyards. They were created to facilitate pedestrian traffic. As they move through these traboules, visitors discover a unique and unexpected architectural heritage of galleries and spiral staircases.
— THE CITY CENTRE —

The City Centre between the Saône and Rhône rivers, called the Presqu'île (Peninsula), has always been the heart of busy activity around the neighbourhood's businesses, shops, bookstores and theatres.
Charming squares and prestigious buildings are present all around this district, which is ideal for peaceful shopping, from luxury stores to trendy boutiques, and including designer workshops, or just wandering around.
— CROIX-ROUSSE —
Croix-rousse, the Silk district, is also part of the classified site. Silk workers, known as canuts, used to occupy buildings that were designed to house imposing handlooms and the new machines invented by Jacquard.
A lively, atypical district that has carried on the silkworking tradition in a few weaving workshops and has opened itself up to design and new trends.
— THE CONFLUENCE DISTRICT —
Europe's largest urban centre renovation project that combines an offer of housing areas, offices and widely varying activities, together with large and convivial public areas: the creation of a tram system, the opening of a shopping and leisure centre, the creation of a nautical centre with a river mooring, and the new Musée des Confluences, a science and societies museum.
— THE GOURMET ART —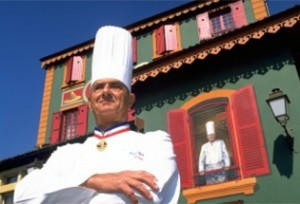 With a whole host of award-winning restaurants, famous chefs, brasseries with hundred-year-old backdrops and counter cafés, whatever you want, you'll find it in Lyon.
Around each table, Lyon has countless ways, ranging from traditional to inventive, of showcasing the treasures of its local country fare. You will find a real symphony of flavours and colours as you stroll through outdoor markets with their sweet, southern aromas, or through Halles de Lyon Paul Bocuse, a permanent covered market where the great chefs do their shopping.
There are nearly 2 000 restaurants in Lyon, several of which have earned stars in the Michelin Guide. The most typical of course, are the traditional bouchons, which only exist in Lyon! The word bouchon dates back to the era when inns that served wine outside meal times were recognised by a sheaf of straw that they hung on their signs. This sign was associated with the normal stopping points for mail and stagecoaches in front of the inns. Thus, while their horses were being wiped down, coachmen were invited to have a drink.
You will find a selection of museums with multiple (Textiles, Cinema, Fine Arts, Resistance, Printing) and sometimes unusual (Miniatures and film sets, City history and World-wide Puppets, Painted Walls) themes on sites that testify to Lyon's architectural diversity over the centuries.
'Soft' urban modes of transport with the new Vélo'V and Cyclopolitain, allow you to move around at your own pace to explore the green city's riverbanks, parks and gardens.